SR 509 I-5 Expressway and ramps
Building the first mile of the SR 509 Expressway and the ramps that will connect I-5 to the SR 509 will require major construction in SeaTac. WSDOT's contractor will:
Build the first mile of the SR 509 Expressway between 24th Avenue South and I-5 and the electronic toll point (near South 210th Street).
Build a new I-5 overpass near South 212th Street. The overpass will connect northbound I-5 to northbound SR 509.
Build a new southbound I-5 off-ramp just south of Military Road South.
Build a new southbound SR 509 ramp that will connect southbound SR 509 to southbound I-5.
Connect the new ramps to Veterans Drive and the SR 516 interchange.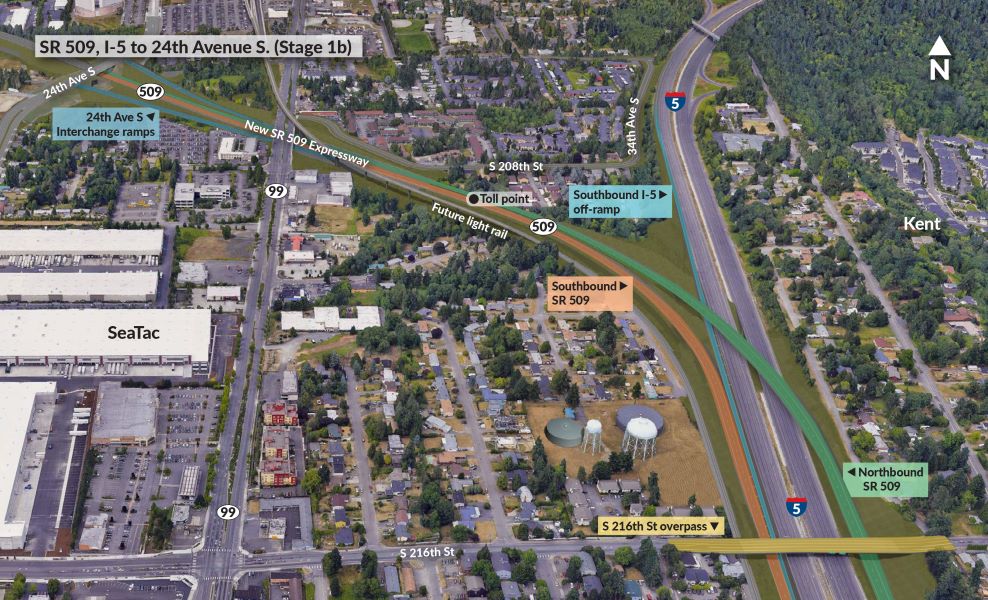 What can you expect:
During construction, drivers can expect northbound and southbound I-5 lanes to be shifted towards the outside shoulder so crews can set up a work zone in the I-5 median. Drivers can expect nighttime lane closures in 2022 and 2023 when crews set girders for the new bridge. When these lane closures happen, one lane either northbound or southbound I-5 will be open during overnight hours, typically between 10 p.m. and 4 a.m. Drivers can also expect periodic single and double lane closures at night throughout construction.
Schedule
Construction of the new ramps and the first mile of SR 509 will begin in early 2022 and will be ongoing through the end of 2024.
Please share any questions or comments on this part of the project on our comments page.