I-5/SR 516 Interchange
The I-5/SR 516 interchange improvements include:
Reconstructing the ramps and adding lanes to improve traffic flow
Constructing a new Veterans Drive undercrossing of I-5, connecting Veterans Drive to the southbound I-5 off-ramp and northbound on-ramp, creating a parallel roadway to Kent Des Moines Road (SR 516) to improve traffic flow through the interchange
Building wider sidewalks and a shared use path.
What can you expect?
If you drive on I-5 you can expect to see lane shifts in both directions so crews can widen the I-5 bridge over Kent-Des Moines Road, construct new ramps to SR 509, and construct the new Veterans Drive I-5 undercrossing. The lane shifts include moving the northbound HOV lane to the southbound side of I-5 in 2024. You can also expect occasional interchange ramp closures throughout construction.
If you walk, roll or use transit in this area your access / route will not change until 2024 when one of the two eastbound bus bays will close. The new eastbound SR 516 bus stop will open later in the year. In 2025, pedestrian access will temporarily shift to the eastbound side of SR 516.
If you live or work in the area you can expect typical construction impacts including heavy equipment, noise, and nighttime work on I-5.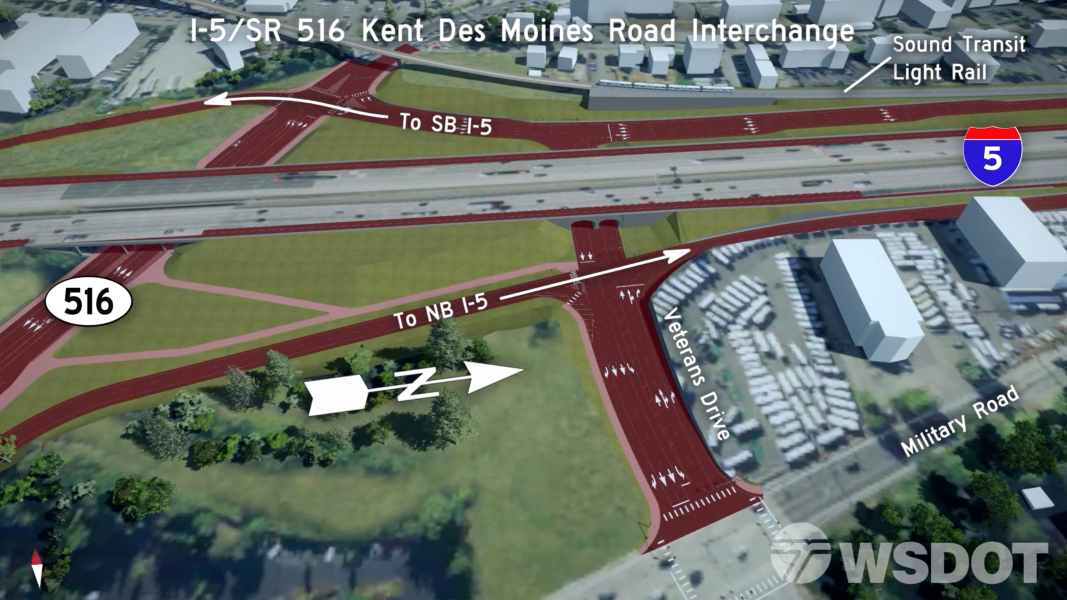 Schedule
Due to the extensive improvements planned for the I-5/SR 516 interchange and southbound I-5, construction crews and their work in this area will begin late this year (2021) and wrap up in mid-2025.
Please share any questions or comments on this part of the project on our comments page.