English | Español
Background
The Washington State Department of Transportation is in the third phase of a series of projects that widen Interstate 5 from Mounts Road near DuPont to Gravelly Lake Drive in Lakewood. At the Steilacoom-DuPont Road interchange (exit 119), a new overpass will be constructed to extend the I-5 HOV lanes further south into DuPont and provide increased vertical clearance over the interstate to meet current standards.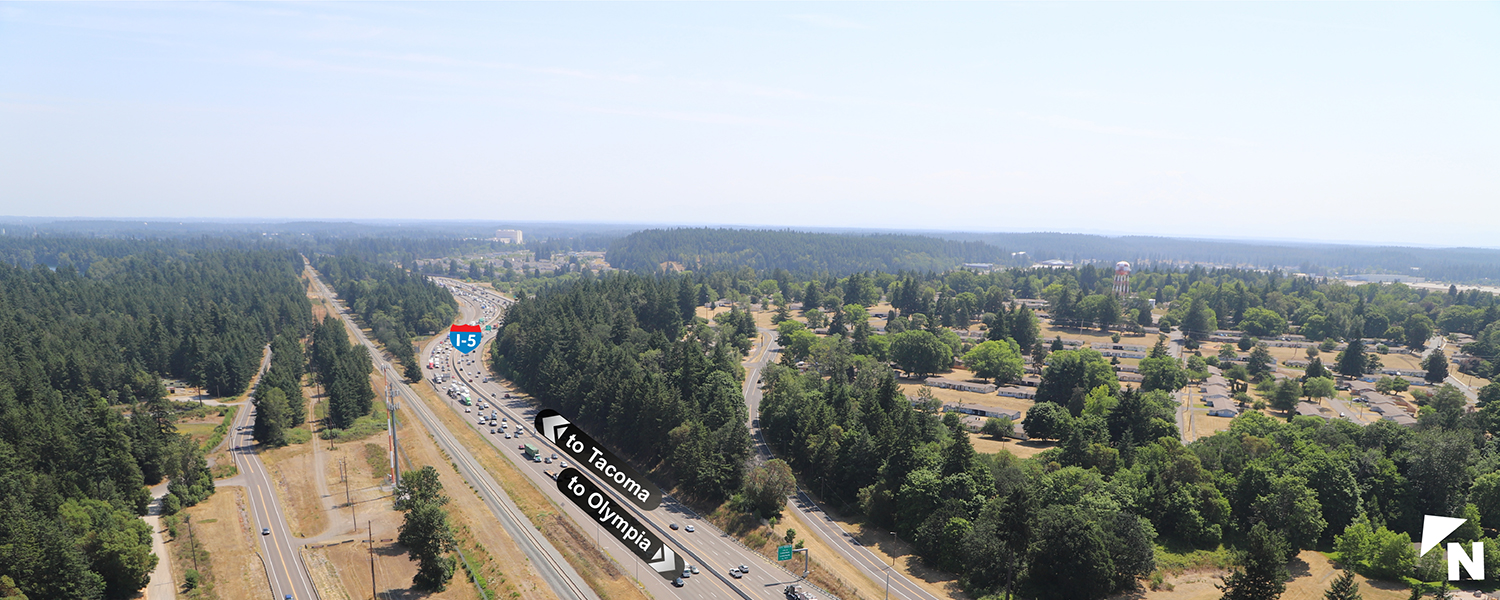 Current traffic flow in the area is constrained by the proximity of the I-5 ramp intersections, Joint Base Lewis-McChord's DuPont Gate, the railroad, and the intersection of Wilmington Drive and Barksdale Avenue. Rebuilding the interchange at Steilacoom-DuPont Road will provide increased distance between the intersections while maintaining access to neighboring communities and JBLM.
Design changes and benefits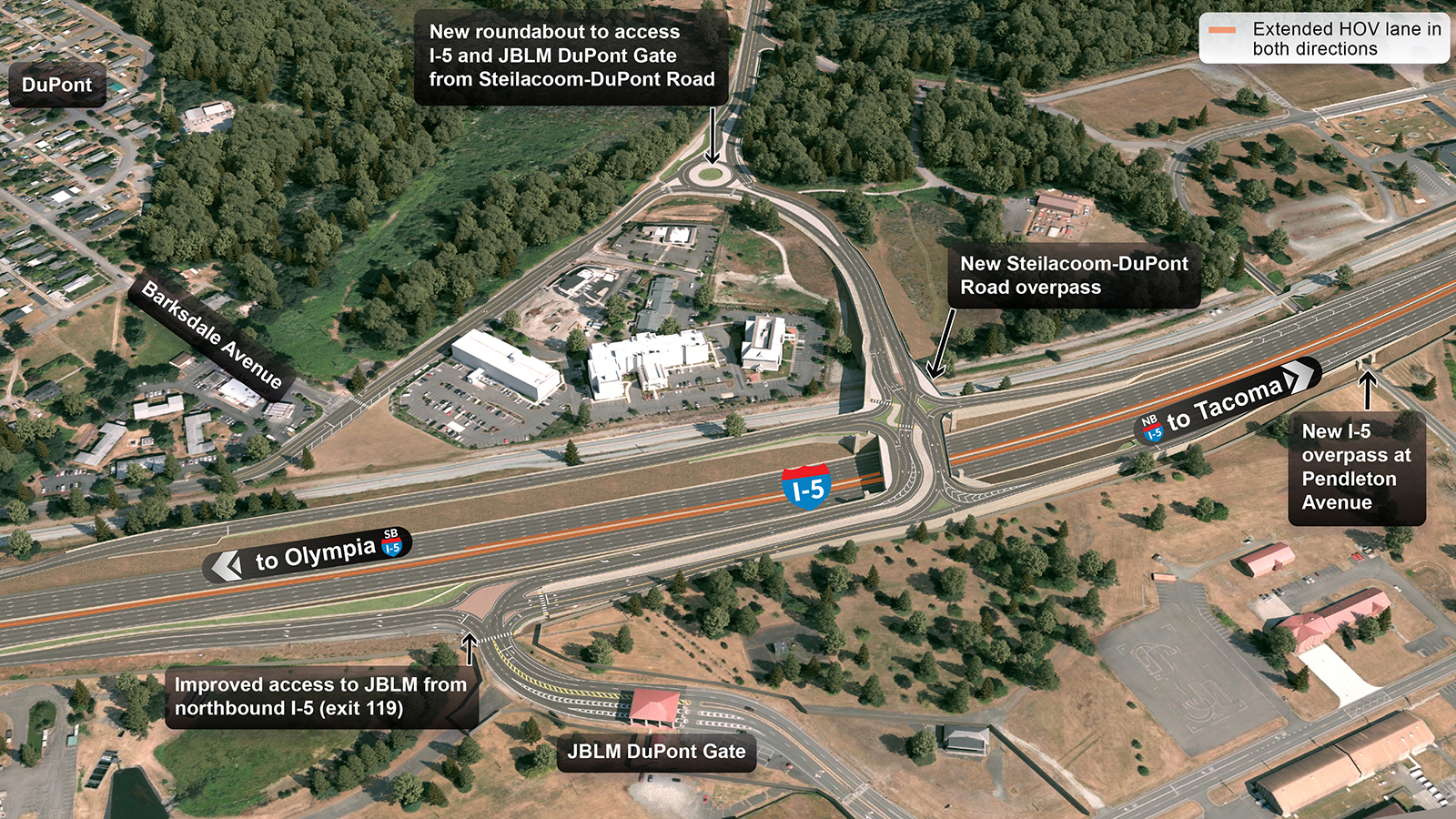 This project features a number of design changes around the Steilacoom-DuPont Road interchange that will result in improved access and reduced traffic congestion. The changes and benefits include:
Extending the HOV lanes in both directions of I-5. The northbound HOV lane will start at Mounts Road. The southbound HOV lane will be extended from 41st Division Drive south into DuPont.

Increases capacity in this section of I-5 and reduces chronic traffic congestion.

A reconstructed Steilacoom-DuPont Road overpass and a partial Diverging Diamond Interchange (DDI).

The new overpass will cross over the railroad, eliminating the current at-grade crossing. The DDI will reduce vehicle conflict points and improve efficiency with fewer traffic signals.

Barrier-separated shared-use path on the new Steilacoom-DuPont Road overpass spanning I-5.

Improves pedestrian access by connecting JBLM to communities west of I-5 for people who walk, bike, or roll.

Roundabout connecting the new overpass and Steilacoom-Dupont Road.

Improves efficiency for all users on the west side of I-5.

Dedicated lanes at the reconstructed interchange that separate traffic traveling to either the JBLM DuPont Gate or the communities on the west side of I-5.

Improves efficiency through the interchange.
What to expect
Construction will require lane shifts on I-5, overnight lane reductions and overnight and weekend ramp closures. Drivers, pedestrians and bicyclists should expect detours in the vicinity of Steilacoom-DuPont Road at various points of the project. All detours will be clearly signed.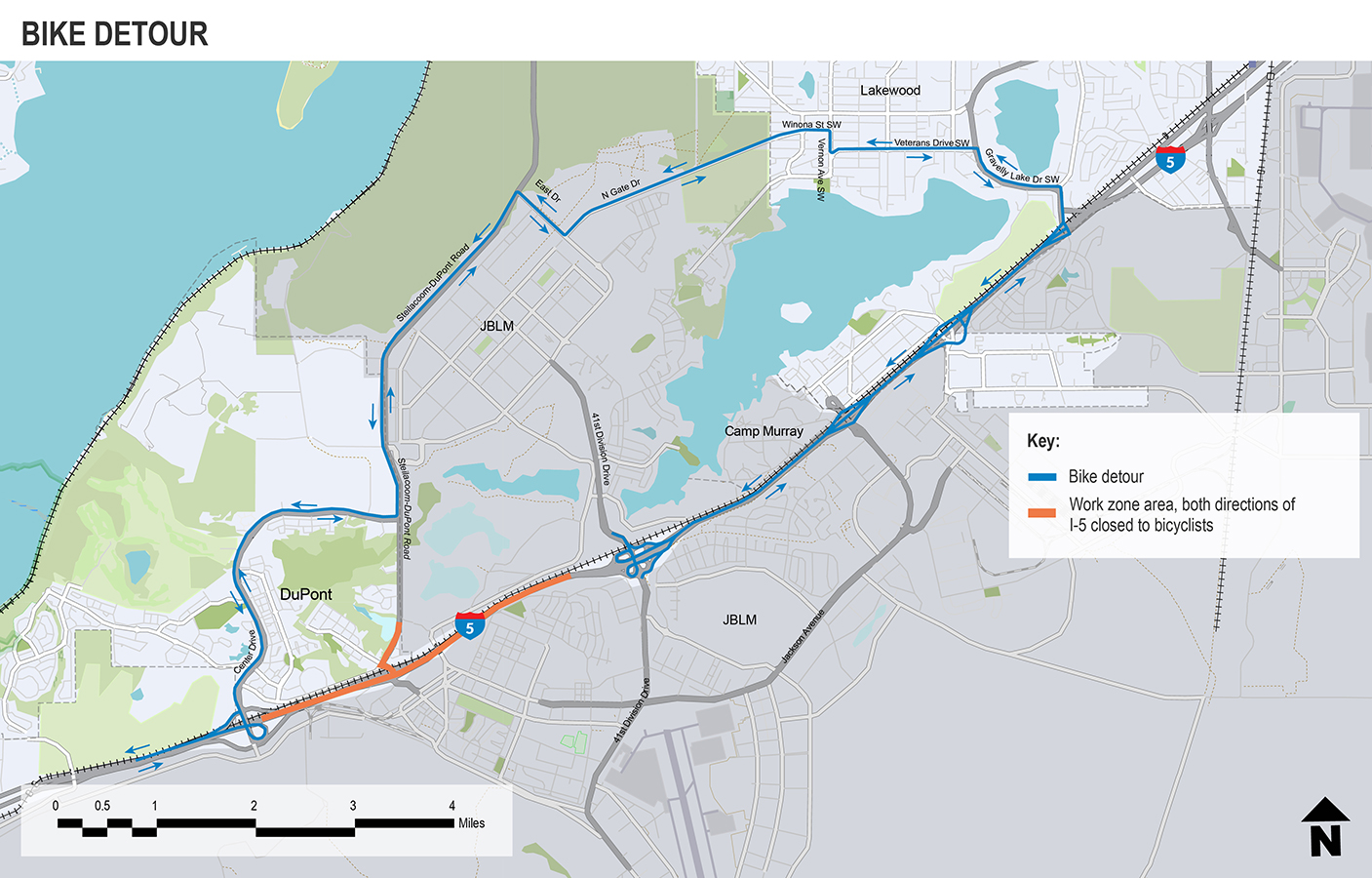 Construction along this stretch of I-5 began in early August 2023 and will continue through 2026. The completed project will improve mobility along I-5 in the vicinity of Joint Base Lewis-McChord.