Welcome
We want to provide more information about this project and answer any questions you might have about the study and the timeline. Online open house materials can be made available in Spanish by emailing sccommunications@wsdot.wa.gov.
Overview
The Town of Naches, the Yakima Valley Conference of Governments (YVCOG) and the Washington State Department of Transportation (WSDOT) are working together to build a transportation system that enables safe and reliable access to destinations for all people, including pedestrians, bicyclists, and motorists.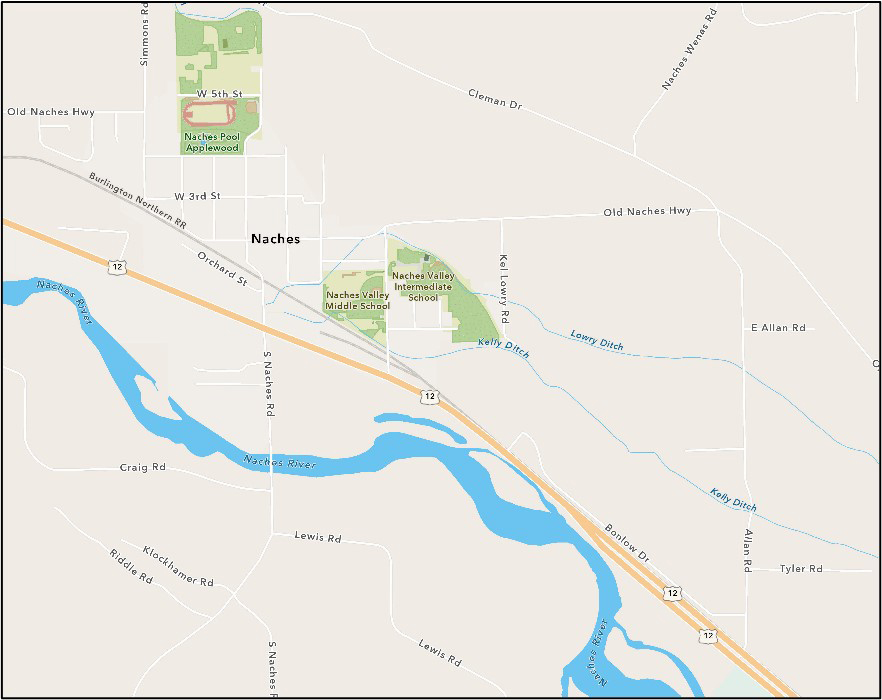 The study area includes the US 12 corridor between Allan Road and Jennings Lane and is approximately 1.6 miles long. It includes the following intersections on US 12:
Allan Road
Kel Lowry Road
Shafer Avenue
Naches Road
Jennings Lane
Background
The Town of Naches is located in the Naches River valley at the foothills of the Cascade Mountain range along the US 12 corridor. Naches has a rich history of agriculture and logging and provides access to a multitude of nearby outdoor recreational opportunities and local produce stands. With the recent extension of the Naches Trail that connects Naches to the Yakima Greenway, there is an increasing presence of cyclists and pedestrians in the community.
Naches is growing in popularity and has heavy seasonal traffic, including semi-trucks and freight traffic along US 12. Homes, grocery stores and businesses line the highway, but there are very few pedestrian or bicycle amenities, limiting safe access to these locations.
While the Greenway Trail, which parallels US 12, is designated as bike or non-motorized route, cycling still frequently occurs along sections of US 12. Additionally, pedestrians in Naches can be found crossing the highway at several unmarked and uncontrolled locations to access homes, businesses and schools. As a result, safety and access control along US 12 is a growing concern and priority for WSDOT, YVCOG, the Town of Naches and the community.
Timeline
Summer 2023
Gathered feedback from the community through a survey and analyzed existing conditions and community feedback to develop potential solutions.
Fall 2023
Gather community feedback on proposed solutions through in-person and online open houses, and a second survey.
Winter 2024
Develop recommendations for future transportation improvements based on existing conditions and community feedback.
Spring 2024
Final report and recommendations.